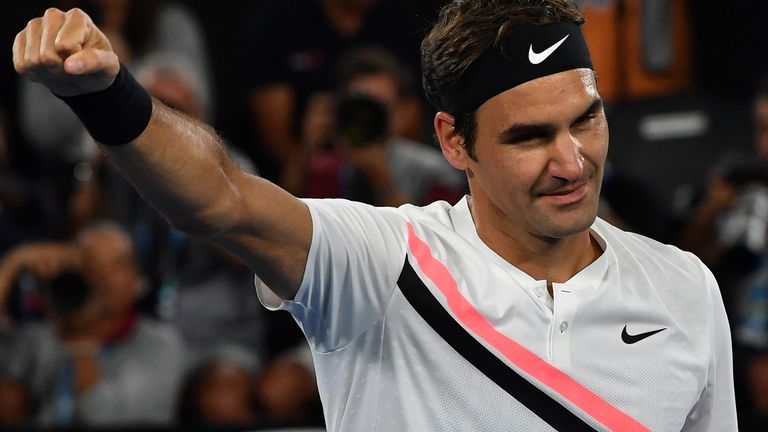 Ageless Federer, 20 and counting! Pic Credits: Google Images
Roger Federer does it again and again and again, but how? How does he do it, how is he going on in a sport where players used to fall of the wayside after 30 and where his contemporary legends are slowing down.
Here are some of the why's:
Talent: Roger Federer is an extremely talented tennis player. He is gifted in the league of Michael Jordan, Lionel Messi, Usain Bolt, Babe Ruth, Michael Phelps and Mohammed Ali. When backed with hard work as in all the above cases, they tend to be the best of the best. Federer has an impeccable handiwork and movement but once he sorted his head and temperament there was no doubt he will be a great if not the greatest. That is still relevant at 36.
Style: He's an Artist on court. Apart from being easy on the eye he is easy on his body as well. The ease of play, aggression, shot selection and finishing the points at the net gives him longevity. Case in point is the run up to AO'18. Although he played his Semi-Final on Friday as opposed to Cilic who played on Thursday - Federer had spent 6 hrs less than Cilic in his first 6 rounds. That's a significant number for a player of this mileage. Federer is, in general known for getting the work done quickly.
Conserving the energy: This is something I noticed in this year's Australian Open only but I am sure has played a role last year too. When Federer was up in the set or had a break, he will conserve energy. Rather than putting extra effort in breaking the opponent's serve again - he'll focus on winning his. This lead to the 6-3, 6-4 score lines in many sets but no real threat was posed to his serve either.
The break in 2016: While a break gets most players out of rhythm and matchplay, thus affecting their levels of play, it did quite the opposite for Federer. Being away from competition, it gave Federer a much needed break and family time from the grind on the tour. It also helped him focus on the technical aspects of training and fitness. A 2017 Federer was leaner and meaner than the previous 2 years and he had a new and improved backhand. THE backhand. With Ivan Ljubicic in his corner, it only seemed logical for him to take his backhand to another level. It helped him take down Nadal, something that was elusive earlier.
Relaxed Approach: He has won everything in the sport. He has even bridged some of his lopsided H2H against his closest GOAT contender. He knows all this is not going to last forever and he wants to enjoy the last few years. This reflects a lot when he is fighting the crunch moments. At 36.5, whatever he wins is more cherry than the cake.
Support System: While all top players travel with a horde of coaches, fitness trainers, family and friends - Federer is the one who sets the bar for all of them. Severin Luthi has been in Federer's corner for over a decade now. His parents almost invariably are there. So is his relationships with all his coaches be it Tony Roche, Peter Carter, Annacone, Edberg and now Ljubicic. After the death of Peter Carter, Roger has his parents for his matches for years now - bearing all the costs. However a huge differentiator here is Mirka, having been a former player herself, she is like a rock for Federer. She choses to travel with 4 kids and keeps Roger going around the world. While players like Murray and Djokovic are married and are fathers, it is rather difficult to witness the same level of effectiveness (after all everyone's different). Nadal meanwhile, wants to focus only on tennis as he avoids the marriage and related distractions in his quest to catch Federer.
Scheduling: Roger Federer is a genius at scheduling. Of course, his team gets the credit too here but it is mainly the player who decides when and where he plays. This highlights what happened in AO'18 a lot. Djokovic and Wawrinka weren't fully fit and Nadal got injured at the Quarter Finals. Nadal promptly blamed the ATP for the schedule in the press conference after. I respect Nadal for what he brings to the court and how he competes but this is pure whining. Nadal with his constant badgering of tour length and demand for more clay courts seems to be a sore loser more than anything else (all great champions are because they don't like losing). Nadal is now exempted from manadatory tournaments (by the virtue of 30+, 600 matches and 12 years on tour rule) and yet he chose to make a mess of his schedule playing Beijing, Shanghai, and WTF after USO'17. He chose it because he wanted to grab the year end No.1 ranking from Fed, which he did. That caused him sorely in this AO'17. Federer meanwhile let go of chasing the year end no.1 by skipping the clay season and not entering any ATP 500 tournaments for the same. It requires a certain strength and wiseness to think long term while letting go of some immediate success.
Loves the tour outside Tennis: Most players love Tennis and competition (even Nick Kyrgios, whatever he says) but Federer loves the attention on the streets, press conferences, endorsement commitments, training and all the comes with it. You can't love enough if you only love the good.
So far, it's working for him well and he should be enthralling fans all over the world for another couple of years at least. May the force be with him!